Everybody Has Somethin' To Say Fridays
DAILY QUOTES
To live a creative life, we must lose our fear of being wrong.
~Joseph Chilton Pearce
Duty is the sublimest word in the language. You can never do more than your duty. You should never wish to do less.
~Robert E. Lee
Sometimes it is harder to deprive oneself of a pain than of a pleasure.
~F. Scott Fitzgerald

Nano Nano
1. La Primavera ~Manu Chao
2. Moment Of Clarity ~Jay Hovah
3. The River ~Springsteen
4. Out Of My Mind ~James Blunt
5. Stay Fly ~Three 6 Mafia
Amelie Says:
These are hard times for dreamers.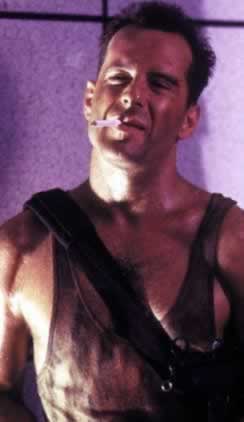 Detective John McLane Says:

Yippee-ki-yay, motherfucker.
Eddie Says:
Mom! We are on high alert here. I almost killed you right then! You do not even realize!
BENJIE'S HOTTIE CORNER PRESENTS:

Holly Valance